So, at the beginning of the year I put up one of those Facebook posts saying I would make something for the first five people who responded. No specifics, just something handmade by me sometime during the year.
One of my friends who responded is Lisa, who writes about finding joy in life, even through trials. Right now she's working on this little project: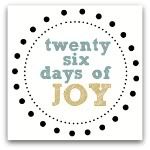 Here's what I came up with to bring a little more joy in her life:
I sketched out a little design, traced it onto the fabric, colored it and quilted it. I gave it to her last week when we got together with some friends. I think she really liked it.
If you're ever in need of a little pick-me-up, head over to Lisa's blog and let yourself find a little more joy in life.
{In case you're wondering, I've given two of my gifts, plus a little extra one, now I've just got three more to go by the end of the year.}